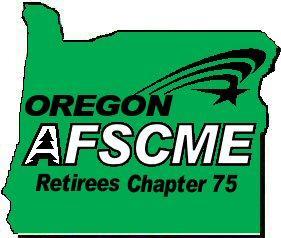 Oregon AFSCME Retiree Chapter 75
2021 Fall Newsletter
News from our Chapter 75 Executive Board members, along with news about some of our members around the state.  The Newsletter will be posted to our new webpage: https://www.ch75retirees.org
President Pat Riggs Henson:
Being your AFSCME Retiree Chapter President has been a great honor. So many changes have us adapting ways to provide updated AFSCME local and international information. Bev Swanson sends out emails alerting members to program changes both in AFSCME Oregon and with AFSCME Retiree International. Thank you Bev. When the wildfires hit our communities AFSCME Council 75 stepped up to help by creating a disaster fund. The state retiree Chapter and both active Retiree Sub Chapters donated to help our members. We were able to help ease the pain that so many felt.
Many of you have sent in your dues and are remaining our members so we can continue advocating on a state and national level for retirement and medical security.  If you have sent in your annual dues of $36.00, thank you. If you know of a coworker that is getting ready to retire call us so we can invite them to join.  Please reach out to your fellow retirees. The COVID pandemic has many folks feeling down and isolated. If you need assistance with issues or just need to talk call me at 541-914-6928. If you add me to your contacts I won't show up as spam.
VP Region 1, Bev Swanson:   I report to the Executive Board about Sub-Chapter 46 meetings that are held the second Wednesday of every month starting at 1:00. The President of Sub-Chapter 46 is Judy Langdon. Currently the meetings are held via Zoom. All members living in Region 1 receive email with an invitation to attend. Region 1 includes 7 counties from Mt.Hood to the coast.
I also report on membership numbers. Currently we have 381 members, covering 5 Regions, plus out of state members. In addition, I administer the Retirees email and do my best to answer questions or forward to appropriate Executive Board members. Contact us at    [email protected]
VP Region 3, Lou Sinniger:  Sub-chapter 41 area is Southwestern Oregon from Lane County to the southern border of Oregon.  Pretty big area.  We have members on the coast and down to Ashland.  We normally meet in Eugene at the AFSCME Labor Center 688 Charnelton St.
Recently we voted to amend our constitution to allow members from other areas to request to come to our meetings. This will help people from nearby Linn and Benton Counties that want to be involved.  Of course if they want to start their own Subchapter which would include Marion County and Salem, we would be glad to help.
We are retired and are available to AFSCME Locals to help out upon request, i.e. hard bargaining, education about unions, candidate interviews, writing letters, mailings, phone banking, strike lines, etc.etc.
We also donate to helpful, humane organizations from time to time. The need to protect our benefits and medical needs does not stop upon retirement.  It becomes more urgent. Visit our Website       https://www.ch75retirees.org/
Our meetings are the first working Monday of the month at 12 noon.  Due to Covid 19 we meet on zoom: https://us06web.zoom.us/j/96625150399?pwd=bjl3aThZRGlWYlNwK0o0TFNFTWd5QT09
Lou Sinniger, President     541-954-2356     [email protected]
Scholarship:                    The Michael Arken Scholarship
    Our Retiree Chapter established this scholarship in 2018 for two reasons.  First, we wanted to acknowledge the years of work provided by Michael so that this chapter exists.  Second, we wanted to promote an educational opportunity for AFSCME members and their dependents.
      Michael was the primary organizer of the chapter.  He personally recruited members and promoted the organization for years.  He was elected as the founding President and served multiple terms.  Under his leadership two subchapters were established – one in the Portland metropolitan area and the other in the greater Eugene region.
          Since the number of scholarships available from union organizations are very limited, this scholarship provides a $1,000.00 award to an AFSCME member or a family member every year. 
          The scholarship is administrated by the State of Oregon Office of Student Access and Completion.  A donation from an individual or a group can be mailed to:
Higher Education Coordinating Commission/OSAC
3225 25th Street SE
Salem OR 97302-1133
On the check memo line, write "Michael Arken scholarship (#773)".  You will receive a letter of receipt.
Our scholarship winners to date have been:
          2018 -2019  Opal Richenberg
          2019 -2020  Kiera Dwyer
          2020 - 2021 McKenzie Barker
A special second award was provided by Sub-Chapter 46 to Kiiera Dwyer
          2021 – 2022          Shane Kreger
HCAO:   Many AFSCME Retirees are finding that Medicare is not what it is cracked up to be. While it covers most of the costs for appointments and tests and hospitals it still leaves us paying out of pocket. Nor does Medicare cover vision, hearing aids, or dental. Drugs are covered only up to a point then your coverage falls into the donut hole.
One of the solutions that would cover not only retirees but everybody would be a publicly financed system of health care. That is where everyone pays their taxes including corporations (pay roll tax) and nobody has to pay anymore.  Such a plan would cover all your necessary medical care decided by you and your doctor of choice.
To do this in Oregon we would need Federal Waivers. Senator Wyden is Chair of the Senate Finance Committee.  We are asking him to include these waivers in the Reconciliation Act.  One of those waivers would affect retirees.  It would send the Medicare $$ to Oregon and the State would then cover all the rest of your costs, much like the existing Med Advantage plans but without any cost to you.
A publicly financed plan will alleviate the burden of cost on the patient, administration for the health care providers, and give the state bargaining power to control the costs of hospitals and pharmaceuticals
There would be no need for health insurance coverage except for those procedures that people that are not medically necessary such as beautifying yourself. Dental, Vision, Hearing Aides are considered medically necessary.
If you are interested in supporting this cause go to Health Care for All Oregon at www.hcao.org.
Lou Sinniger      541-954-2356    [email protected]
Benefits - AFSCME Advantage: Check this website for many discount benefits, along with information about free college. https://afscme.org/member-resources/afscme-advantage
New Retiree Outreach:   Once a month we receive a list of state employees who have just retired. We send a packet to each of them with a membership application, return envelope, a congratulations letter, and a flyer listing 10 Good Reasons to Join.  We encourage current members to let us know if they have AFSCME friends who are retiring, so we can reach out to them. 
To read more about our activities, go to our new web page:  https://www.ch75retirees.org  which was set up by member Frank Vehafric.
Chapter 75 Officers:
President: Pat Riggs Henson
Vice President:  Tina Turner Morfit
Secretary:  Judy Langdon
Treasurer: Robin Mariani-Moffit
VP Region 1: Beverly Swanson
VP Region 2: Carol Leach
VP Region 3: Lou Sinniger
Trustees:  Jim Gerhardt, Bing Wong, Janice Larkin